Bruce Perens was the keynote speaker at the Open Source CubeSat Workshop 2018 in Madrid, Spain.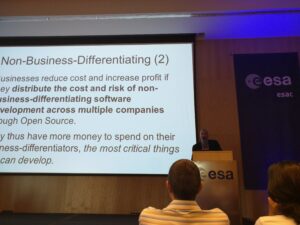 Michelle Thompson presented a technical update on Phase 4 Ground activities and described recent progress with DVB-S2X receivers in GNU Radio.
Held at the European Space Astronomy Center in late September 2018, the conference drew 122 diverse and enthusiastic participants from 22 countries. Two days of presentations and workgroups resulted in a remarkable amount of progress and sharing in support of open source spacecraft and ground stations.
Below are links to notes from the four working groups in which Phase 4 Ground volunteers participated.
Open Source Satellites – Improving the Starting Point
SatNOGS Report and Discussion
Libre Cube Standard, Community Development
Hugh's Blog Post
Links to video recordings of presentations will be released soon.