Badge report! Brag Tape, Radio Peripheral update, and our ESP32 development board. It's from hacker boxes and has a TFT display, programmable RGB LEDs, an SD card for storage, up down left right select user interface input, and some circuitry for charging a lithium ion battery. It's a good platform for building up the executive function code for Phase 4 Ground radios.
What do we have working?
A high resolution display, SD card access, and bluetooth advertising that sends commands to the trans ionospheric badge.
ESP32 development can be done with the Arduino IDE, but this is very limited and hogs memory. For Phase 4 Ground we use the ESP IDF. This means command line, but Visual Studio Code works with some setup. This gives you context colors and build and run functions.
We highly recommend the ESP32 check it out at the links below. Our next report will be about multicast IP SDR work. See you then!
ESP32 info!
Overview:
https://www.espressif.com/en/products/hardware/esp32/overview
Programming Guide:
https://docs.espressif.com/projects/esp-idf/en/latest/
Trans-Ionospheric is a successful fundraiser for our open source amateur radio satellite communications work.
Thank you so much for the support! Buy one here: https://www.ebay.com/itm/123328684692
Amateur Radio and open source Amateur Satellite activities at this past week's DEFCONwere very successful.
Multiple talks across the somewhat daunting schedule provided plenty of opportunities to hear about amateur radio, open source satellites, modulation and coding, and ground station work. Phase 4 Ground had an opportunity to present at Cyberspectrum, and then helped host a Q&A the following day.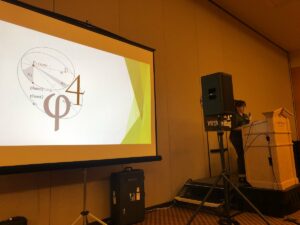 Open Research Institute had a booth in the WiFi Village Friday-Sunday. Services provided were the DEFCON ham radio license exam information/encouragement, SatNOGS information/handouts/stickers, Libre Space Foundation information/handouts/stickers, GNU Radio demonstrations and quick tutorials, FaradayRF information/handouts, SDR demonstrations, Trans-Ionospheric badges, Phase 4 Ground updates/recruitment/promotion, and more.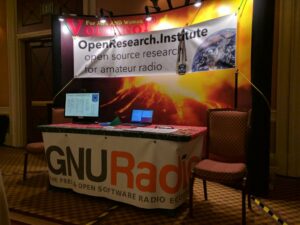 The landscape of amateur radio in space is diverse, interesting, and active. The audience at DEFCON is enthusiastic, positive, technical, and generally unafraid to build things and try stuff.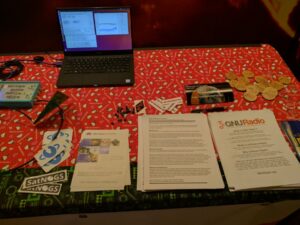 The Amateur Radio Relay League (ARRL) was there this year, and they are thinking about coming to GNU Radio Conference as well.
We met several university researchers and put them in touch with the right support networks to get their cubesats "off the ground".
It's hard work to be part of a event as large, loud, and busy as DEFCON. The attendance was estimated at 27,500 by Sunday. However, it's very much worth it! It was great to meet so many people in person for the first time that we've gotten to know through electronic means.
We are solidly in the black on Trans-Ionospheric badge sales and are well on our way to funding the development board for Phase 4 Ground radios. Support and information here: https://www.openresearch.institute/badge/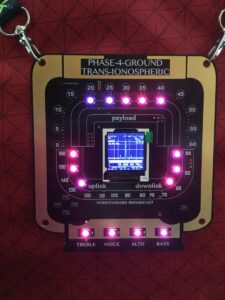 We'll be selling them online shortly. All proceeds go directly to support the non-profit ORI, and specifically for Phase 4 Ground project.
Next up: finding out how to improve representation for amateur radio on interplanetary missions from NASA. We'll be at the Interplanetary Cubesat Workshop this week at Goddard Space Flight Center. We'll have a poster session on open source satellite and ground station work, specifically allowed under ITAR 120.11.
Thank you to everyone that helped make this trip rewarding and fun with the encouragement, support, and materials.